Commercial Water Damage in Northampton? It's Easy If You Do It Smart With Team SERVPRO
4/14/2019 (Permalink)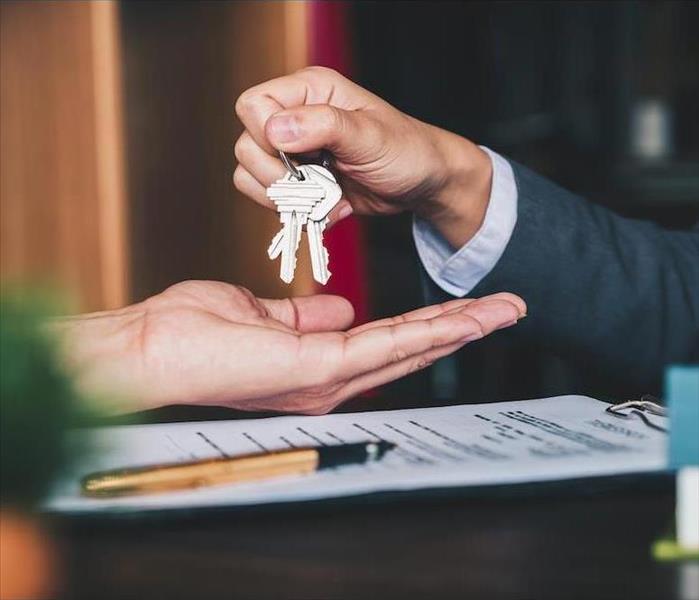 When your real estate office has water damage, many things can be compromised including potential sales. Contact SERVPRO to remediate the damage.
SERVPRO Beats Commercial Water Damage in Northampton Real Estate Office in Time for Open House
The adage "You never get a second chance to make a good first impression" is very true, especially for a new real estate company just starting. A short time before the open house to announce their opening, a water supply line in the company breakroom broke under a sink and spilled water for hours before it was caught the following day.
SERVPRO received the urgent call to clean up commercial water damage in a Northampton realtor office. They had already advertised their grand opening to the public and did not want to delay their open house launch party.
Extraction of water is the foundation of drying. Our technicians got to work immediately using wands and weighted extractors to push the water out of the low pile carpeting just outside the breakroom which was only mildly affected. Inside the breakroom, water was still standing and was quickly eliminated by SERVPRO technicians.
The drywall behind the water supply line was not significantly affected, and removal was not necessary. As a precaution to ensure air flow could occur during drying, our technicians drilled weep holes in the wall under the sink areas around the line break. After extraction, air movement and controlled warmer temperatures in the affected area initially around 70F to 80F are crucial for proper drying.
To ensure faster drying, SERVPRO chose to use desiccant dehumidifiers along with our traditional dehumidifiers to capture maximum humidity the air movers bring to the surface. The desiccant method works by absorbing moisture into a solid substance on a rotating wheel such as zeolites, activated alumina or silica gel (the same material you might find packed in with electronics). The wheel delivers the humid air to a collection port and repeats the process.
Through these drying methods and a complete wipe down with our professionally formulated cleaners to make the premises smell fresh and clean, there were no signs of the water loss and the opening was not delayed.
SERVPRO of Hampshire County knows commercial water damage can happen any time day or night. Our emergency response teams are available 24/7 and arrive at your location within hours after your call to (413) 324-1300.
Click here for more information about the city of Northampton.